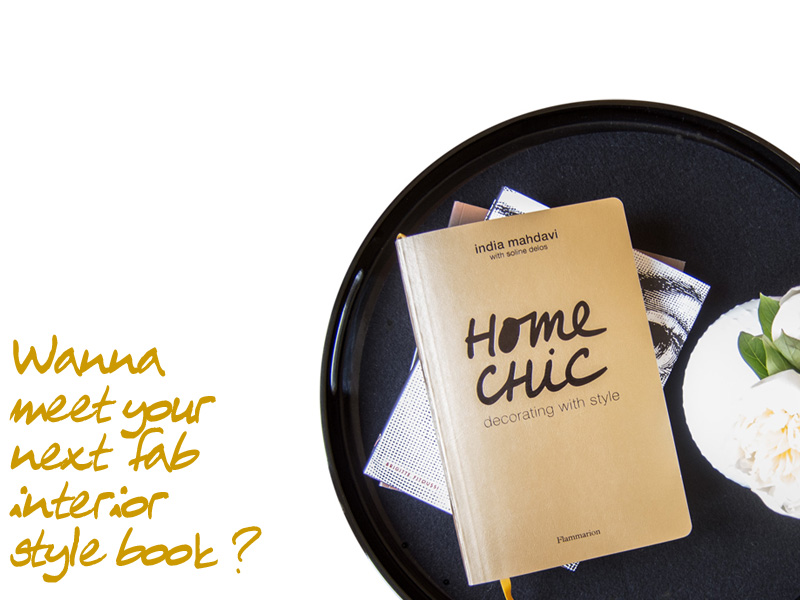 Here's my newest source for home decor ideas and I really love to talk about it, because I am already a big fan of her work. And no wonder, her fan-base is quite huge.
As Designer India Mahdavi states in her introduction, the reason for the book is, that she was constantly asked for interior style advice while attending dinner parties.
So, big thanks to all that questioners!
Now everybody who loves her style has the wonderful chance to get her valuable personal advice too. Her new guide, perfectly illustrated with photographs and drawings, gives us incredible inspiration and guides us through her do's and dont's which sometimes turn out to be just the opposite of what we were told so far.
If you question yourself now: India who?
Here's your short introduction:
Her Name: India Mahdavi (Egyptian-Scottish mother and Iranian father)
Her Education: Ecole des Beaux Arts in Paris (…she said it was the worst time in her life), School of Visual Arts, Parsons School in New York – worked as Art Director at Christian Liaigre Studio
Her Occupation: Architect, Furniture and Interior Design, runs her own studio since 1999 Lives and works: rue las cases, 75007 Paris, showroom@indiamahdavi.com
"Style Means having the courage to take Risks. An overly-perfect home isn't a home at all, it's simply a showroom."
India Mahdavi
And in addition, there should be a lot of fun, as she states in an article for 1stdibs.com "I think a home should be quite happy." So true!
photo © Paolo Roversi (portrait of India Mahdavi) photo © Derek Hudson (right side), bathroom

photos © india mahdavi/showroom paris, ceramics, cushions, petits objects as well as her signature bishop stool, all designed by India Mahdavi


photo ©
jean jacques l'héritier
– Monte Carlo Beach Hotel
, Roquebrune-Cap-Martin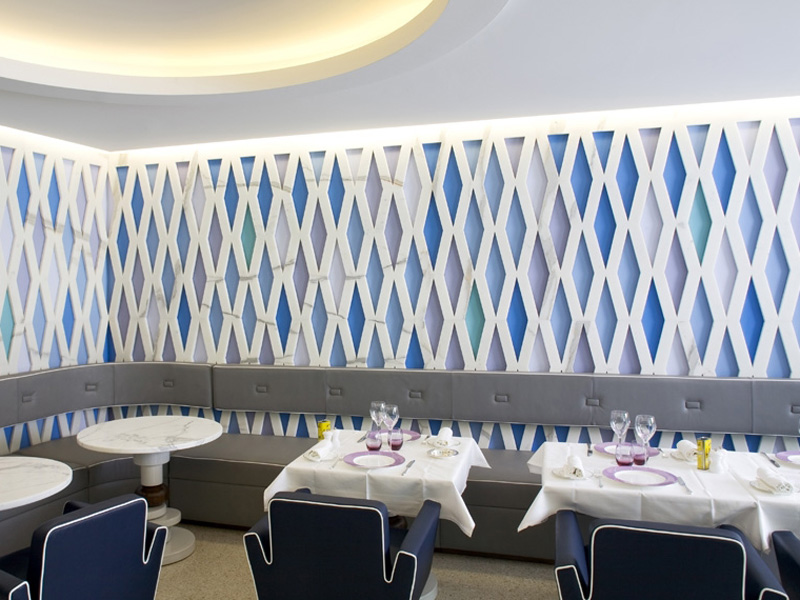 photo ©
jean jacques l'héritier
– Monte Carlo Beach Hotel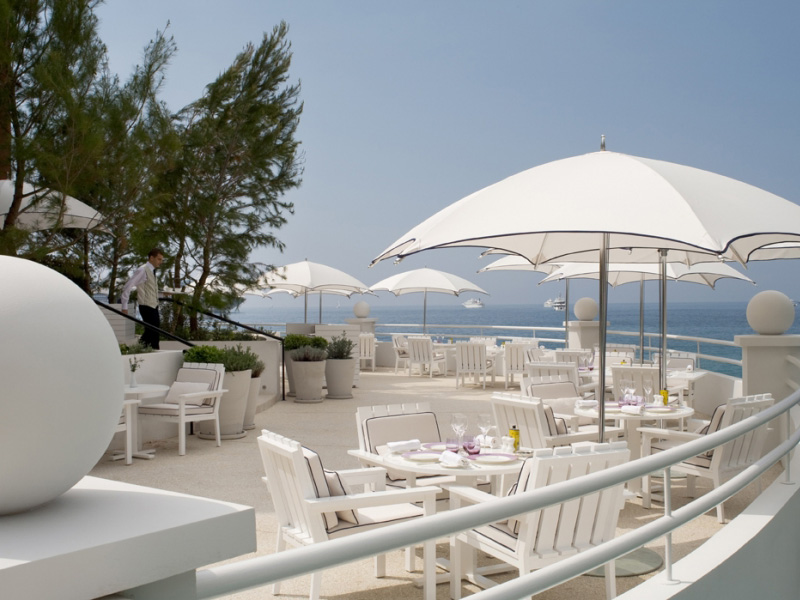 photo © jean jacques l'héritier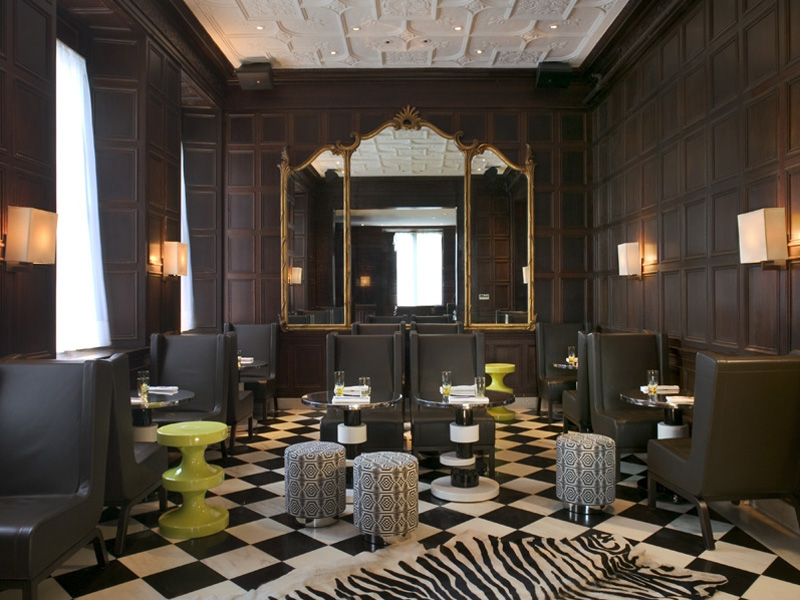 photo © david joseph
photo © Derek Hudson – Image Courtesy of Germain, Paris, Sculpture "Sophie" by Xavier Veilhan

photo © india mahdavi – coburg bar at the Connaught Hotel, London
photo © Derek Hudson – Maison Thoumieux, Paris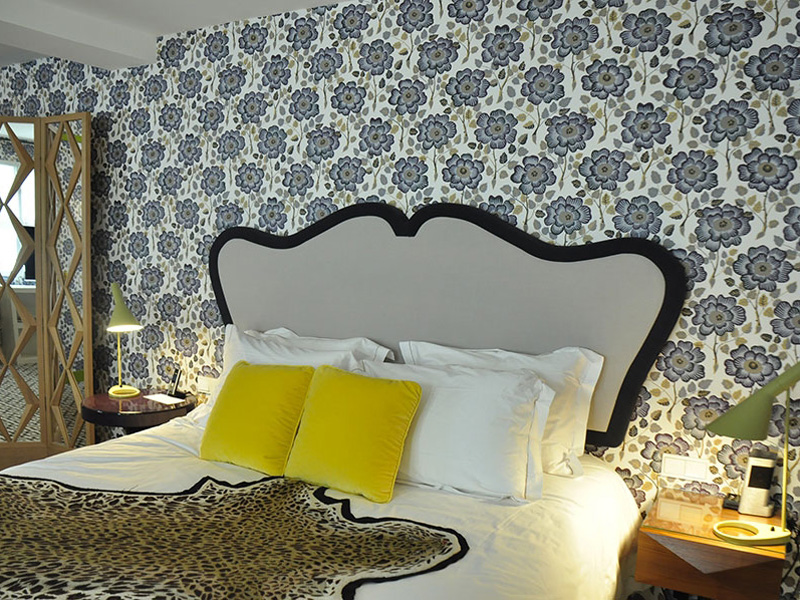 photo © Derek Hudson – Maison Thoumieux, Paris
Some of her recent works: Maison Thoumieux (Hotel/Paris – they have also a beautiful website! Chapeau!), Restaurant Jean-Francois Piege (Paris), Monte-Carlo Beach Hotel, Germain (bar / restaurant) and Germain Paradisio (cinema), Coburg Bar at the Connaught Hotel
The book allows us a wonderful insight in her creative work and attracts our fantasy with brilliant pictures along with her thoughts and stories. Her simple YES or NO quotes are summarizing the matter precisely and best! Expressing her Credo in Style, to make a room feel your home and not an exhibition, is clearly stated by carefully chosen examples of her work whether for hotels, bars, restaurants or private residences. And even for the shortcomings of your rooms she has a special idea to share.
Together with co-writer Soline Delos, a french journalist for Elle and Elle dèco, she has created a book with stunning visuals, written in a light tone, expressing her signature style which incorporates her unmistakable feel for a sublime mix of color, texture and pattern. Being more a guide than a book it even invites you to take your own notes at the end.
After 7 chapters full of helpful tips and tricks we get on top of that in Chapter No. 8 her personal city guide for the Globe-lifestyle-shopper with a curated list of shopping tips from Beirut via Cape Town to Rio de Janeiro and of course Paris.
Some of her style tips and ideas:
If imperfection of jumps out at you in a room, introduce a bold object or an interesting piece of furniture to draw attention elsewhere …

Bedroom – NO to matching headboards and divan covers, the decorating equivalent of the ultimate fashion faux pas – matching shoes and handbag. Never a good look.
And not to forget, the wonderful furniture she designs and also the petit objets like her signature ceramics which you can discover online at her Showroom page. So, are you ready for a sneak peek? Here you go.
Publisher for the english edition: © Flammarion, S.A., Paris, 2013
Publisher for the german edition: Knesebeck Verlag