Finally, the weather in Europe has turned!
Summer, sun, beach – I already see myself splashing in deep blue water or lying on the beach enjoying the endless bright blue sky.
Ah, I am so into blue these days.
So while I was sitting at my desk daydreaming, I wondered how to incorporate a piece of summer feeling into daily life (….even for those bad weather days…..) – here are some suggestions:
Starting with the Chair – the name sounds already quite promising: Acapulco Chair! If you want to develop a 50ties style jet-set feeling even on your balcony, here you go. Made in Mexico, from UV-resistant PVC, outdoor proven. The daydream: sitting in it while sipping a fruit cocktail while listening to some cool sounds, could also be the beating of the waves…! Produced by a danish company called Ok design.
Let the sunshine of the italian Rivieria in with the famous Ceramics called Rimini Blu. The Creator Aldo Londi worked as a painter, sculptor, but primarily as a ceramist. His ceramic pieces have written design history far beyond the Italian market. His most famous design is the ceramic collection Rimini Blu, which was built between 1957 and 1965. It includes over 150 designs of bowls, vases, ashtrays to animal figures in different shapes and sizes. All have in common the characteristic pattern and the color blue. (source: Markanto.de).
Every sailoress needs a cool striped sweater – this one is a pure classic by Comme des Garcons from Dover street market and reminds me so much on St. Tropez. Or was it Marseille? But no, I remember I saw once a picture with Brigitte Bardot wearing a similar one and since then my memory is kind of locked-in….BuitBu
Ok, let's continue with:
Heritage Mason Jars, for your garden or balcony party, found on etsy
OK, it is not blue – but, hey, perfect is boring, right? Why not fresh it up with some citron-colored stool? Bishop stool by India Mahdavi.
Candles by maison diptyque always a big pleasure and why not putting them into a blue jar….
Here comes the real deal. A small investment for an everyday holiday mood. Every sailor needs an anchor – iphone cover from Society 6
Ever heard of Mykonos blue (btw. Pantone color for SS 13)? Found it on this stunning ikat patterned cushion – from Society 6 (Btw- do you know Society 6? It's such a cool place, I owe them minimum one blog post!)
For an all-year-long everyday summer mood (even with zero degree outside) the investment will be slightly higher then for an iphone cover but very very effective – with this adorable mosaic tiles by italian company Bisazza
Want a blue feeling in your office, too? Then go for this blue shirt in ombre technique – very fashion forward from Acne Studio (pssst: on sale now….)
For a captain's dinner at home – plates with coral design from the famous Limoges manufactory Raynaud, left side plate from italian designer Paola Navone for Reichenbach.
Do you want even more great inspiration for the blues? Have a look at these fab images from photographer Line Thit Klein for the June issue 2013 of Elle Decoration. Together with stylist Natalia Sanchez Echevarria she created these beautiful still lifes to show off a mood for beach, aqua, surfing and yellow.
So beautiful.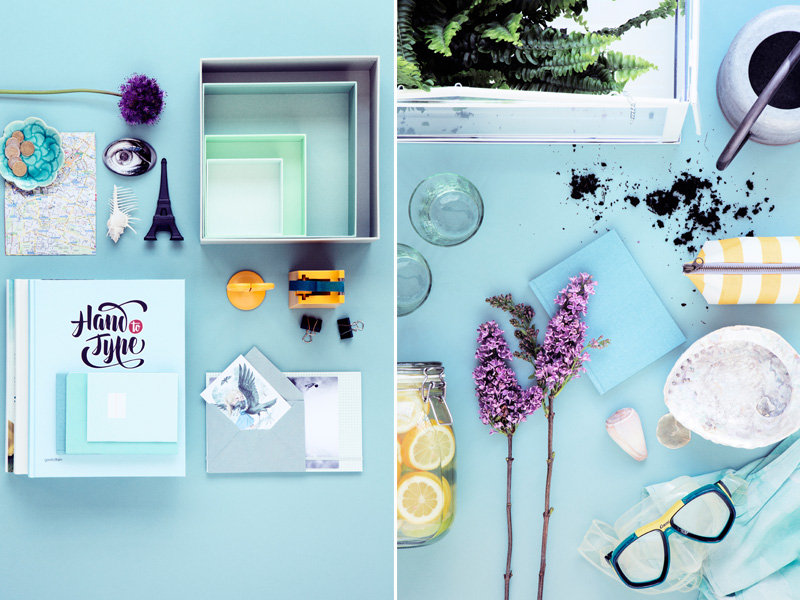 Styling: Natalia Sanchez Echevarria
Photo: Line Klein
Retouch: Rune Lundoe
Photo Swimming Pool: Slim Aarons, Lake Tahoe, Nevada, via yellowkorner