Roman Primack (below, left) introduced himself as new director of Design Miami Basel with a new platform called Design at Large. It provided the fair with a compelling centerpiece. Curated by Barneys Creative Director Dennis Freedman (below, right), the six installations were selected from open submissions by participating galleries.
My 3 favorites were Jean Maneval's space-age "MAISON BULLE 6 COQUES" (from 1965) presented by Gallery Jousse Enterprise (Paris), Sheila Hick's giant color-fiber landscape installation "SÉANCE" (2014) presented by Gallery Demisch Danant (New York) and Dominic Harris's hi-tech "divine" intervention ICE ANGEL (2012) from Priveekollektie (Amsterdam).
Among the elements of Séance are a massive suspended column and dozens of large, intensely colored, boulder-like "bundles" that lean against each other and invite inspection. In the center of these fiber sculptures stood a 'color table' offering trays of hand-painted wooden blocks. Visitors were encouraged to use these to create color combinations guided by their own personal associations.
They could then share and trade with other participants to create a unique color narrative. Séance thus invited visitors to participate in Hicks' color play, one of the most fundamental aspects of her art and design process. Was quite amazing to meet Sheila Hicks in person and to play around with the colors.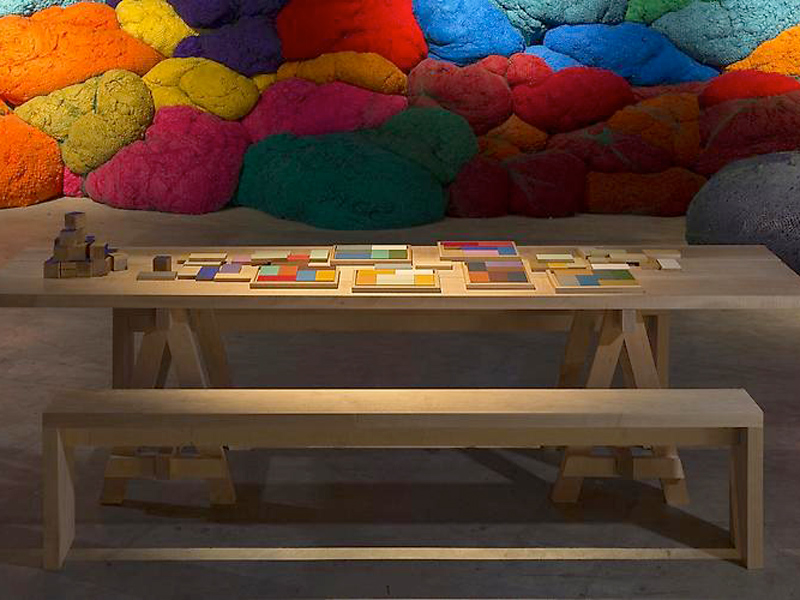 Dominic Harris Ice Angel blends the act of youthful playfulness when creating snow angels with modern digital manipulations, making the viewer assume the role of both performer and portrait subject. To be honest, I didn't fell in love with it at first sight, the Angel theme has for me somehow a bit of a kitsch element, but I very much liked the idea to experience your body interacting with moving light, that creates at least a poetic shape.