After reading the headline you understood, ok, it's a tour, a design exhibition, but mmhh, what's the meaning of that "B-l-i-c-k-f-a-n-g" (?). Maybe you would guess it is german, and that's right. And it is quite similar to the word eye-catcher or eye-candy or literally attention getter. But let me hand you over to SEBASTIAN WRONG, one of Britain's busiest designers and furniture manufacturing experts, Designer and Artist, founding member of Established & Sons and Curator of the year 2013/14 for the Blickfang event and what he is saying about it:
[…] "It is very much about supporting a designer and an opportunity or platform to present their ideas to the world and for me this is a very essential element for creating a market for your designs."
BLICKFANG, originated in Stuttgart, Germany, is a special concept among the many design events throughout the year. Starting more then 20 years ago, it has grown into an international design shopping event, that connects designlovers directly with designers (selected upfront by the blickfang team and jury). Meanwhile it takes place in seven european Cities: Basel, Copenhagen, Hamburg, Munich, Stuttgart, Vienna and Zürich and attracts about 135.000 Visitors a year. The latest one happened to be in Munich last weekend. Would you like to join me on a short virtual tour?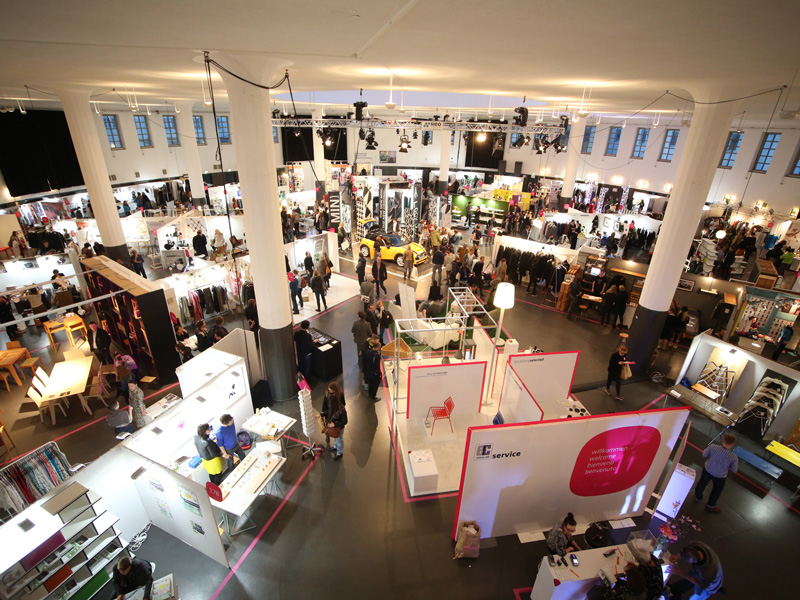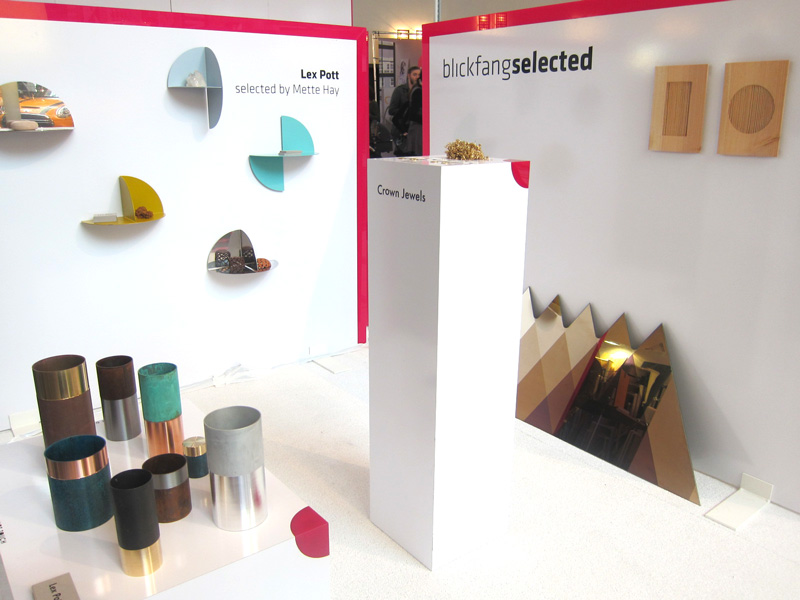 Designer LEX POTT showed his oxidized transience mirrors (in co-operation with David Derksen) as well as vases made from aluminium, brass, copper or steel in different heights and his work called Crown Jewels. Lex Pott employs a raw and intuitive method. In his work, he returns to the origin of the materials he uses most: wood, stone and metal. He does not hide his designs under indirect layers, but reduces them to their very essence. Pott is an Amsterdam based designer and works from his studio in an old shipyard on the NDSM-Terrein, one of the last fringes in Amsterdam. The young designer graduated cum laude in 2009 at the Design Academy Eindhoven.
Mette Hay said about him: "Even though he is very young he already has his own design language."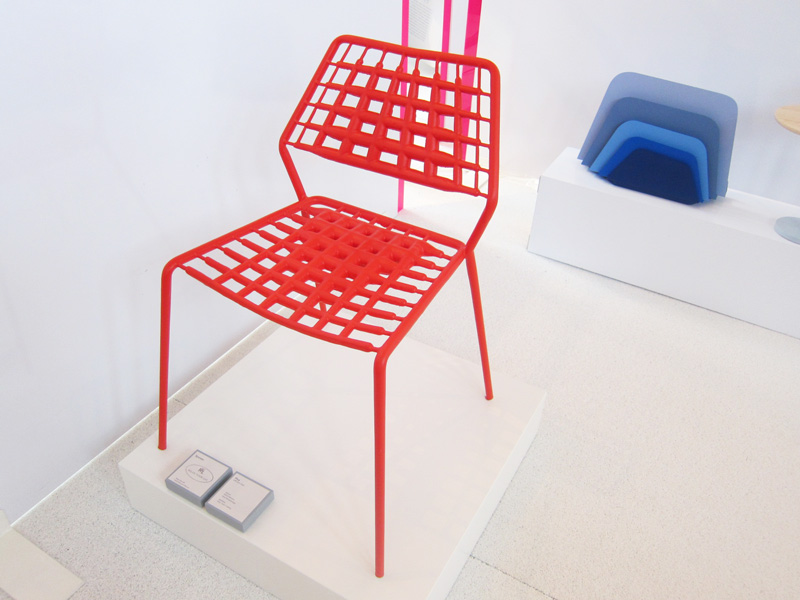 One of my favourites was the wire chair PLUE from Silvia Terhedebruegge, a Wire-Chair based on a metal grid but foamed in a newly developed technique. Do you still remember being a kid sitting on a wire chair and after that feeling that deep imprint on your skin? That was the inspiring moment for Silvia to create an resistible outdoor chair but with a comfortable seat (and even without a cushion!). Sealed with "Elastoskin" the chair Plue is weatherresistent and dirt-repellent. Silvia was selected by Nils Holger Moormann. In the back you see NIVEAU a magazine rack, which helps you organize the different papers you read (yes, there are still some of us, reading papers… including me…). Silvia was selected by Nils Holger Moormann, who develops furniture with young designers since 1982 said about her:
She combines very clever clean lines and shapes with color but she never forgets about the innovative aspects in her designs.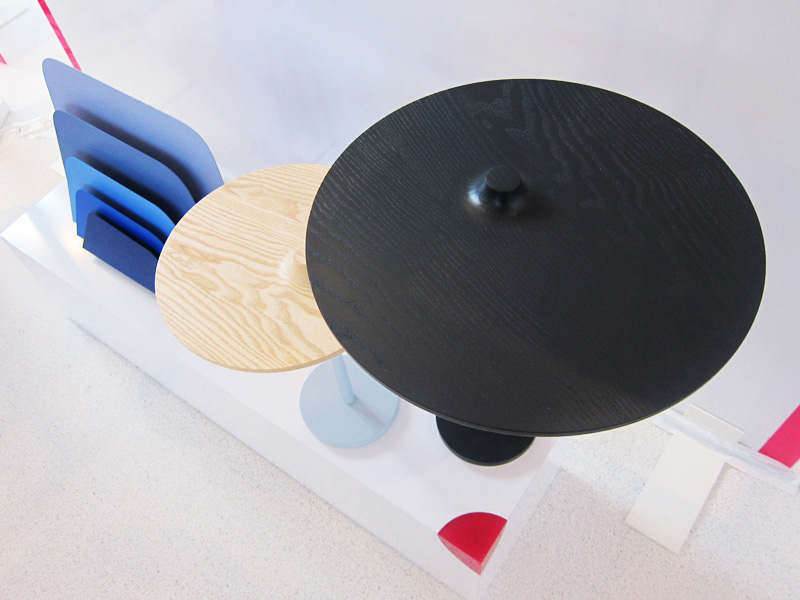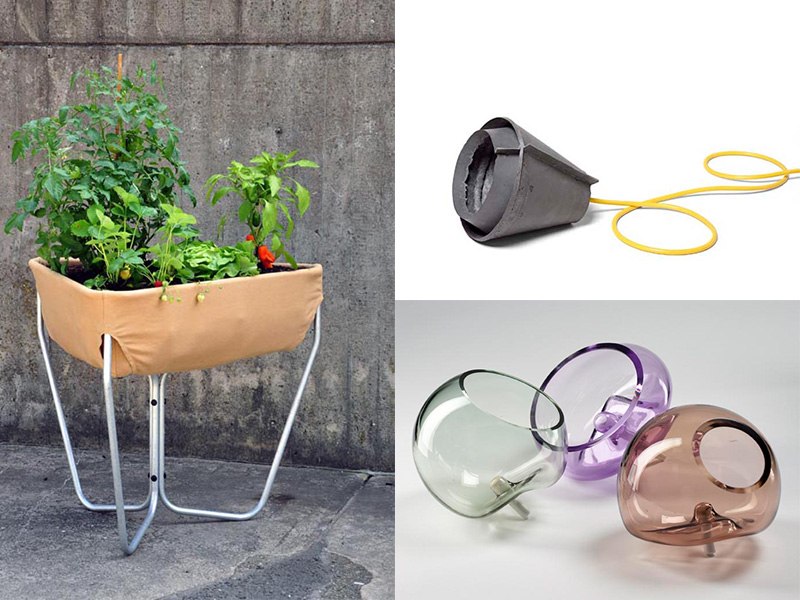 Designer TIM MACKERODT was selected by Percy Thonet, head of the famous Thonet GmbH, Austria. Tim Mackerodt established his studio in 2012 while he was studying at the school of art and design in Kassel. His raised bed enables a convenient work posture and offers a protection against pests. For a new urban gardening culture.
"Ian's ceramic work is all about the details… a white plate can mean many things and Ian's work engages in the research and development of the super normal ceramic object."
Sebastian Wrong about IAN MCINTYRE. The ceramics were made for the british brand Another Country. The Blickfang team is also proud to have partnered with the MINI group for over 10 years now and MINI also offers an design award. Last week the lucky winners in the furniture segment were the designers from THIS MADE. The designer couple developed a shelving system that is lightweight, robust and versatile. Thanks to the varying shelf and bracket lengths, STM2 enables shelf combinations of various sizes. The length of STM2 is basically unlimited.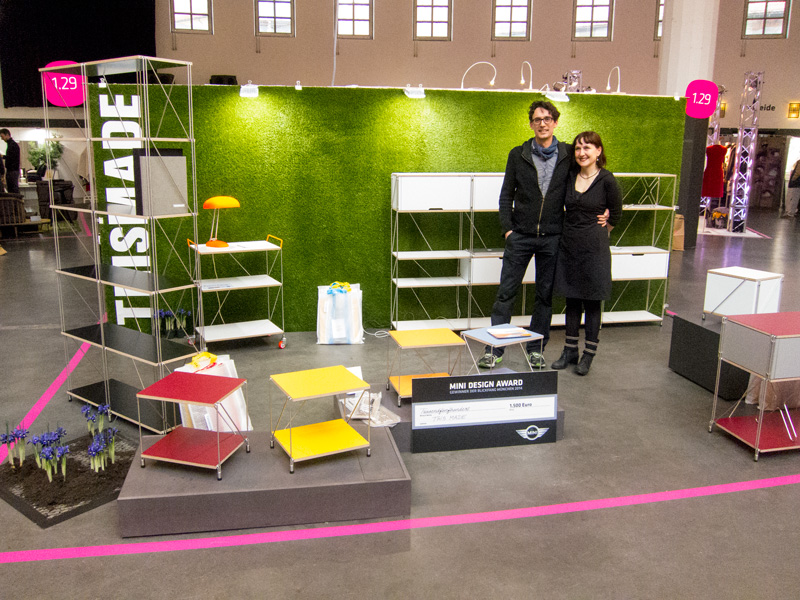 The japanese Designer MEGUMI FUKUOKA is using two different types of French Porcelain for her work, Limoges and Mont Blanc. She also uses Japanese colors to tint the porcelain to create a warm and soft effect. I really liked the brilliance of her colors and especially these bowls.
SCHOENSTAUB is the name of a young design-team from Zurich, Switzerland. The two founders and designers Nadja Staeubli and David Schoenen met each other in 2010 at the University of Arts in Zürich. They have a wonderful collection of different carpets made in collaboration with a Swiss family enterprise with a long living tradition since 1892.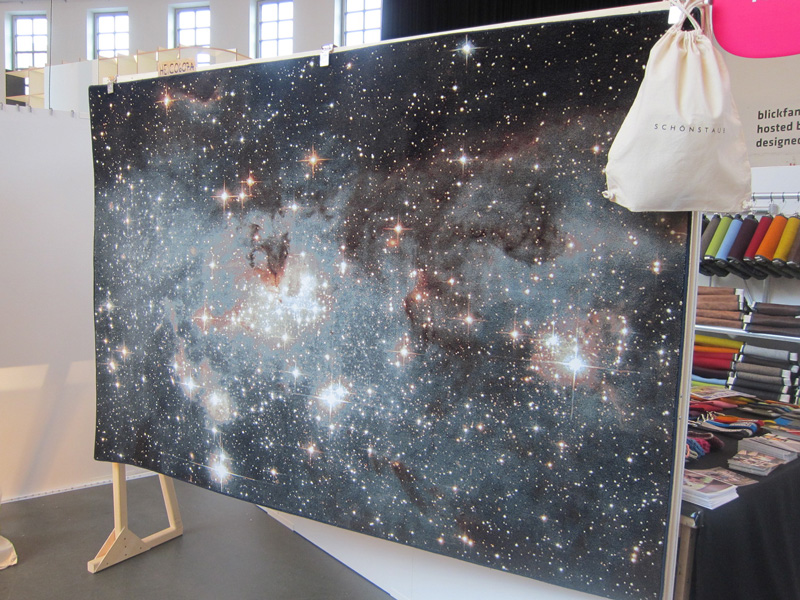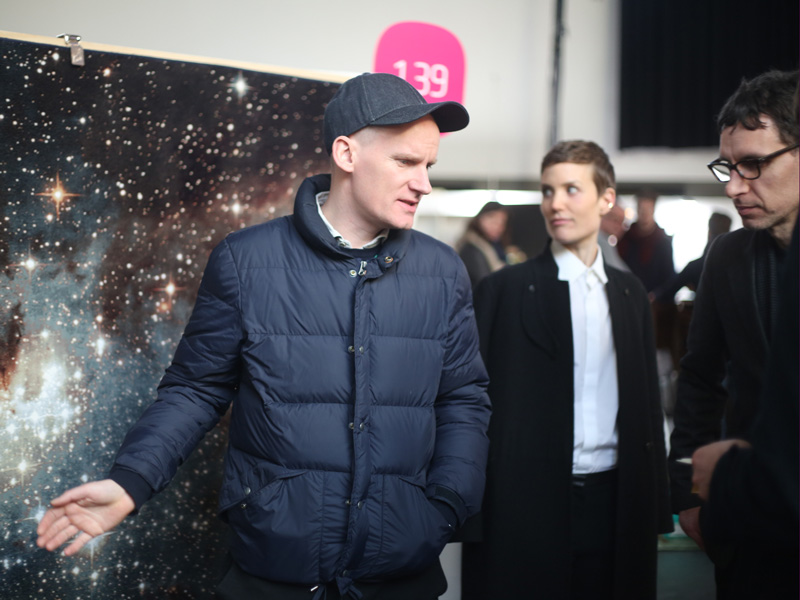 DANTE Goods and Bads was founded by artist Aylin Langreuter and industrial designer Christoph de la Fontaine in 2012. Their approach is to create objects, products, editions with qualities above and beyond the substantial and to link more associative qualities like emotions, habits, memories, tastes, aversions, the good, the bad, never the ugly.
Trendy upcycling is made by a young designer couple named Fremdform. They collect old furniture, restore it and awaken them to a new life.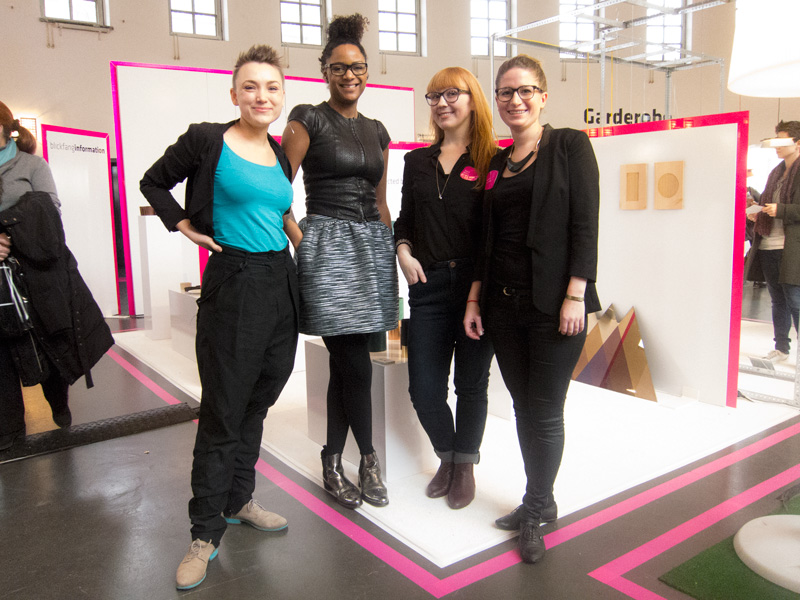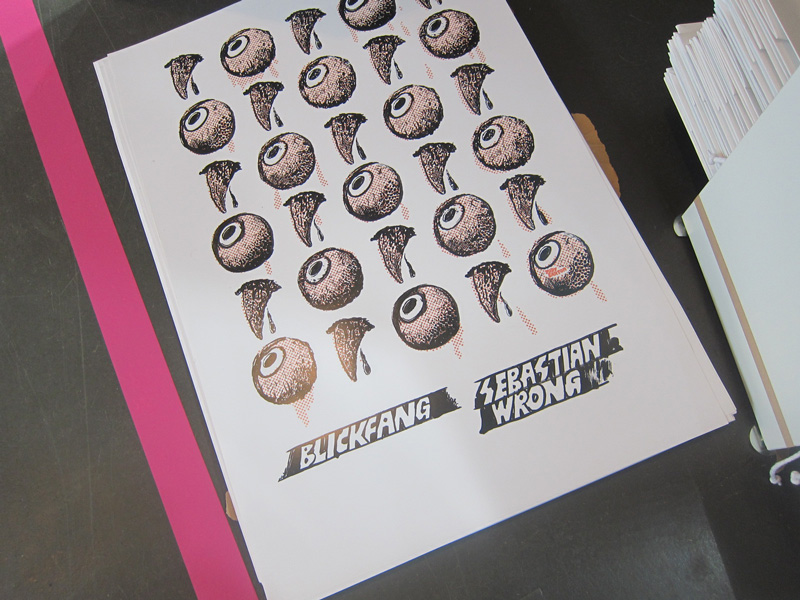 The Link Collection:
Design Event Blickfang – Sebastian Wrong thewrongshop – Silvia Terhedebruegge – Lex Pott – Tim Mackerodt – Ian McIntyre – Dante Goods and Bads – Megumi Fukuoka – Schoenstaub – thismade – fremdform
Next Blickfang design trade shows take place in:
Germany / STUTTGART: 14. bis 16. März 2014 | Switzerland /  BASEL: 09. bis 11. Mai 2014