Design Lovers will most likely agree that finding a proper accomodation while travelling can be an immense challenge. There seems to be also a trend among hotels and rental spaces claiming the attribute "design", but – you'll know what I mean, do you? As for me, I've spent countless hours in upfront research for cool and unique places to stay while traveling ( so I thought I am going to share it with my readers by starting a new series about fab places, hand picked…).
And then, from time to time, suddenly you find a real gem, a place just stunning by its attention to detail and fab interior arrangements. And the best one's on top of that make you want to pack your belongings and move in right away.
That also happened to me the day I stumpled upon the apartment RioMarie which I felt instantly in love with.
But before I'll take you on a short house tour, I'd be glad if you'd join me to trace back the history of the famous building RioMarie is part of.
It's 1957.
Berlin is still in the post-war reconstruction phase. The city of Berlin (to be precise: the western part) has decided to set an urbanistic statement: to showcase a model for the city of tomorrow in an building exhibition called "Interbau57". Located in the center of Berlin, still so-called Hansa District (Hansaviertel). At that time, a district where about 90 % of the houses were destroyed by WW II air raids. The planning started in 1953 and the implementation ran from 1955 to 1960.
53 modern architects, among them Le Corbusier, Walter Gropius, Max Taut, Egon Eiermann, Wassili Luckhardt, Alvar Aalto, Schneider-Esleben, to name only a few of the big names, have been asked to take part in the Interbau exhibition and to show their very own understanding of tomorrow's housing. And among them also Oscar Niemeyer, the brasilian star-architect, who died aged 104 (!!!) in 2012 and said:
I pick up my pen. It flows. A building appears. There it is. There is nothing more to say.

He planned a modern building with 8 storeys based on 14 V-shaped pedestals, which was realized in the years 1956/57. The building looks still the same and is in very good condition.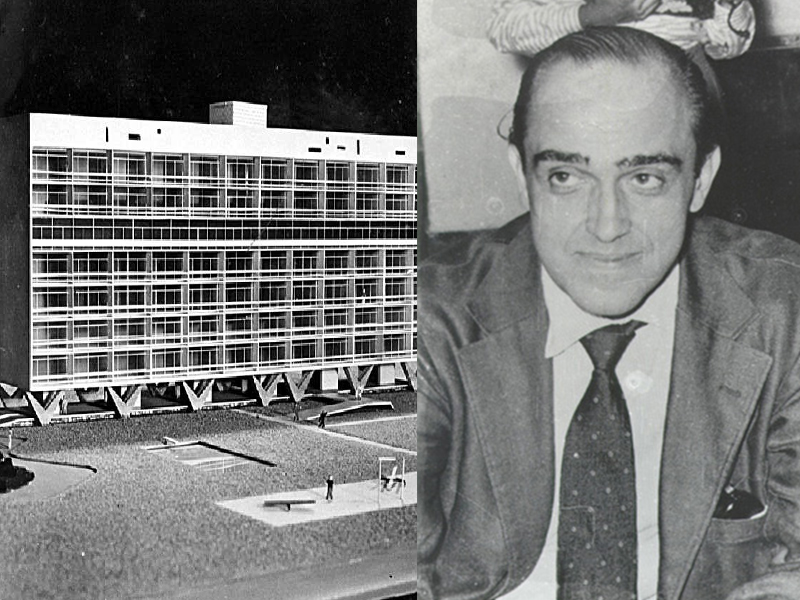 credits: © Fundação Oscar Niemeyer, Wikimedia Commons, model of the building in Hansa District, right side: Oscar Niemeyer – images below, © Klaus Romberg, a-base.de


It's 2012.
55 years later a berlin based couple, with an extraordinary sense for space, material and with great attention to detail (no wonder -both are renowed architects running a studio called a-base architects) transformed the apartment in the Niemeyer House into the 21st century. The modern apartment is now re-furnished in a subtle 50ties Style. Especially with modern design classics also related to the year 1957 and still in production.
Sit on original Bertoia-Chairs at a stunning Eero Saarinen Table and after a stroll through the city rest your feet on a rattan foot-stool from architect Egon Eiermann. Take your apero while comfortly lounging on a chair from designer Herbert Hiche, quite a rare find the owners of RioMarie are also very proud. The rooms can be separated by a sliding door made of palisander – also a nice reference to the brasilian roots of the building.
image above: ©Klaus Romberg, below: ©Hanns Joosten
images: ©Hanns Joosten
image above ©Klaus Romberg, below ©Hanns Joosten
The very chic ultra-modern Kitchen is equipped with hardware even a chef would be happy with: induction cooker, oven, dish washer, Toaster, tableware, Nespresso Coffee machine, large fridge with freezer, mixer, baking pan – to name some of it.
image: ©Klaus Romberg, a-base-architects
Ever seen such a cool kitchen in a rental space? Love the mix of the sliding doors and the ultra-modern hanging unit on the left side.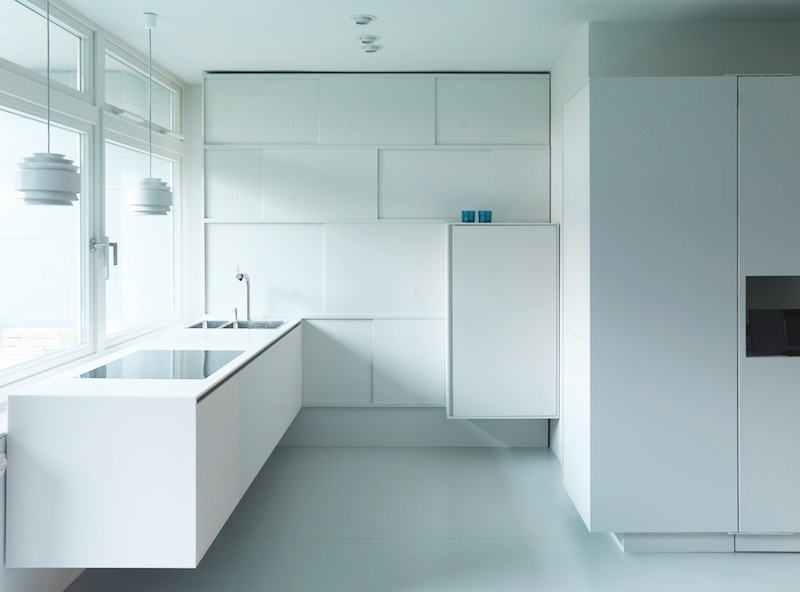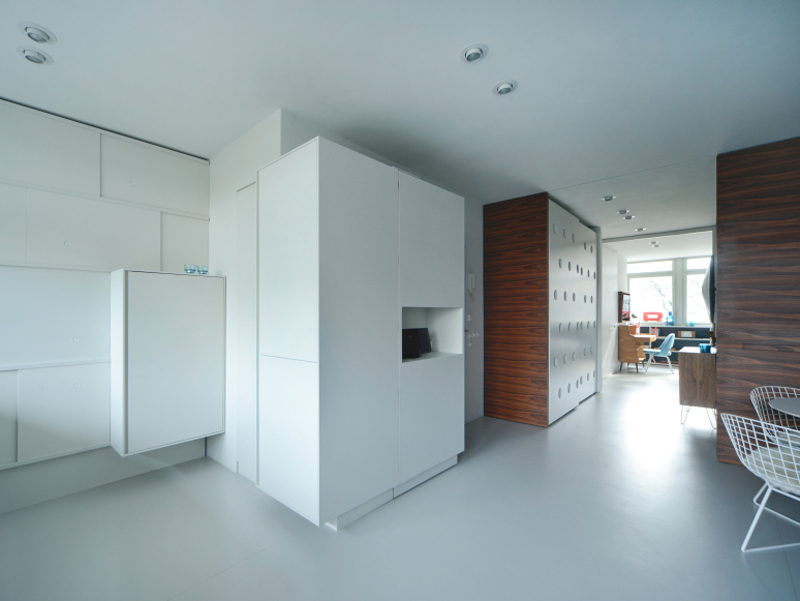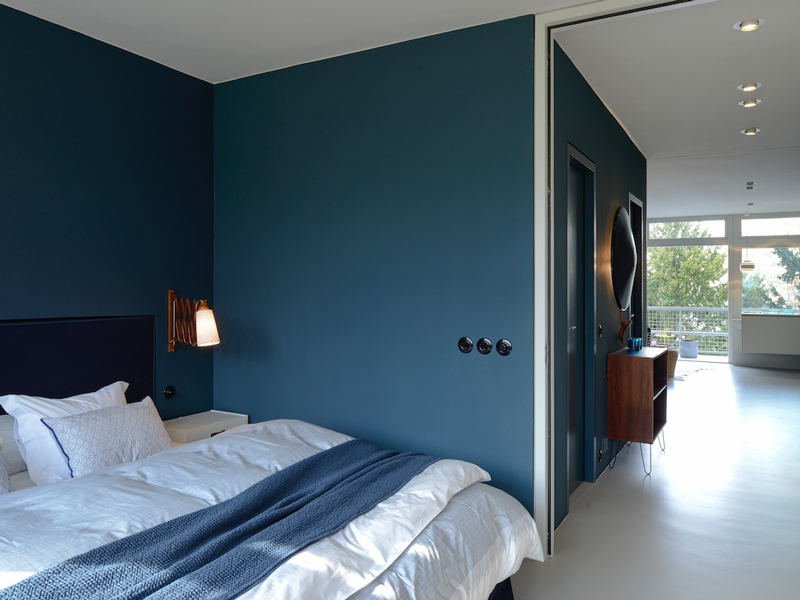 Bedrooms with comfy box spring beds, image above ©Klaus Romberg, below ©Hanns Joosten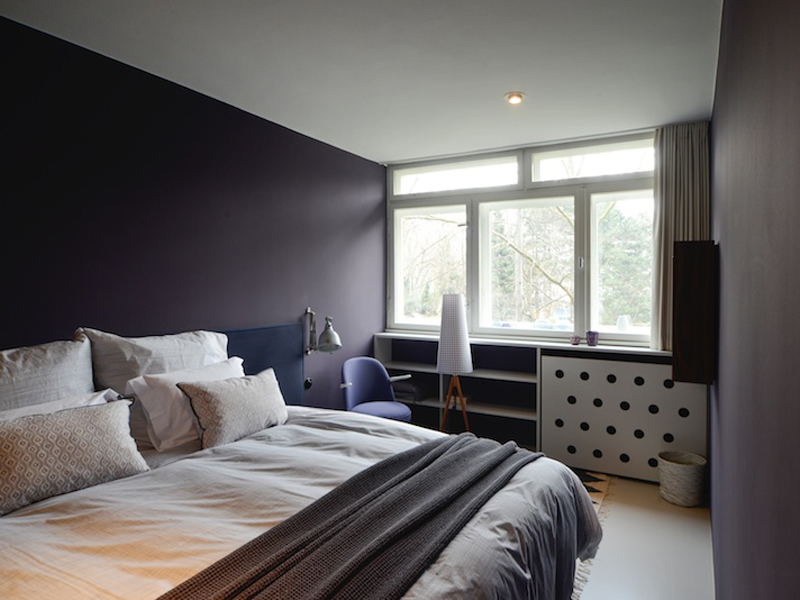 All the built-in-furniture was especially designed by a-base architects. It reflects the pattern of the Buliding's external hoist way (as seen above) as well as the type of material used for furniture at that time. image ©Hanns Joosten
2 walk-in-closets – image ©Klaus Romberg, a-base-architects
First-class bathroom with shower and bathtub, equipped with fan, towels, slippers and also references to the 50ties – note the legs – images ©Klaus Romberg, a-base-architects, below ©Hanns Joosten
And after your sightseeing tour, business meeting or working day – just have a cup of coffee and chill out on the loggia and let your imagination flow…!
Key Features of the Apartment are: 82 sqm, newly re-furbished, double glazed windows, 37″ Flat screen TV, 2 double bedrooms with double, king size bed, 2 bathrooms, Dining Area, fully equipped modern kitchen, large fridge/freezer, oven, dish washer, Toaster, all sorts of kitchenware, Iron, Ironing Facilities, Fan, Washing Machine, Heating, Wardrobe/Closet, Shower, Hairdryer, Toilet, Bathroom, Flat-screen TV, Refrigerator and free WiFi Internet Access (highspeed 50 MBit/s).
RioMarie is excellently situated in the middle of Berlin, with easy access to the hotspots via public transport, and near a famous urban park called Tiergarten. Serves well for your daily jogging routine, an after-work-drink in a beer garden or just a quick airing.
So, want to move in right away too?
For booking or any other inquiry please contact Karen and Klaus Romberg via roomberg.de.
credits:
interior design/ Innenarchitekt: a-base architects www.a-base.de
photo: Hanns Joosten www.hannsjoosten.de, Klaus Romberg www.a-base.de
image below: ©Hanns Joosten
What about you, my dear readers? Did you like it?
Stay tuned for the next in the Top 5 List to come!