Salone del Mobile 2014 is over and again it was filled with surpising events, adorable spaces and cool designs along the roadmap. After scanning hundreds of images and tons of information it seems that I will need the rest of April for my review and to let you dive into everything I was fascinated by.
So let's start with "Something Good" – and I mean it literally. That's the name of the project conceived and promoted by Giorgio Biscaro, Zaven (Enrica Cavarzan and Marco Zavagno) and Matteo Zorzenoi, a new generation of Italian Designers. Of course you find this new generation at Spazio Rossana Orlandi (needless to say they are on my Top list).
S/G (Something Good) was presenting a preview of its new collection of accessoires, ktichen articles and objets for the home and office and includes the collaboration of renowed European designers Odoardo Fioravanti, Oscar Diaz and Tomas Kral.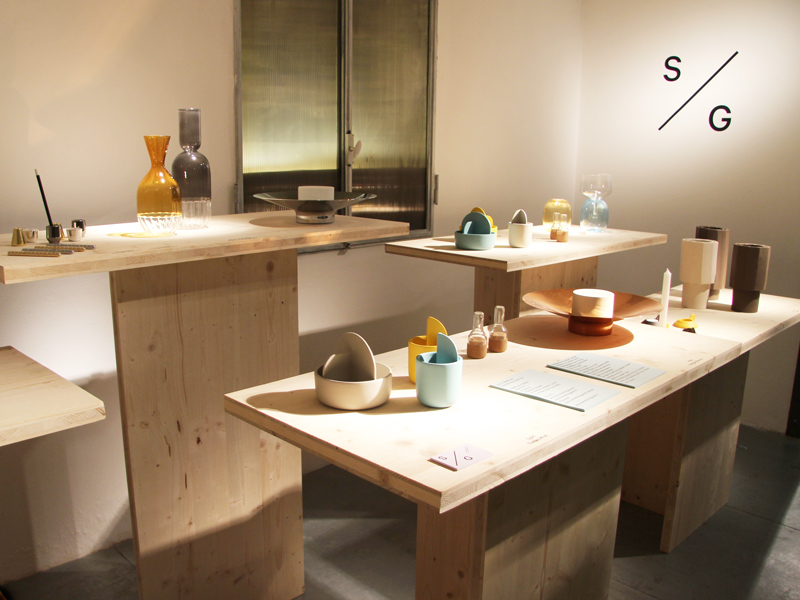 S/G highly emphasizes on the choice of materials and quality of production procedures combined with a close relationship with local craftsmen and producers and thus comes back to the heart of the italian design phenomenon ever since related to the craftmenship of small Italian companies.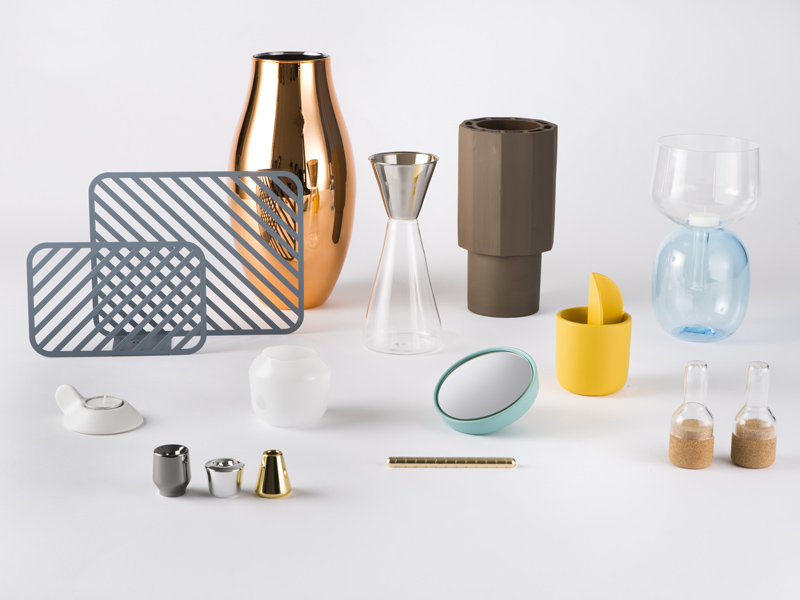 What I also really like about S/Gs presentation is the way they communicate the story behind each product. So charming. Please find S/Gs orginal text below each item displayed. And what a lovely idea to create small objects also for the office table, in order to delight the daily life of all of us who supposedly spent a lot of our life-time at a plain desk.
The Story: Many pitchers are more about ergonomics than about appearance. Which is good, because we trust in good design as well. We wanted to deepen the concept and go beyond ergonomics to emphasize glasswork, gifting the object with a rich texture and colours.
Name: Mrs and Miss. Design: Matteo Zorzenoni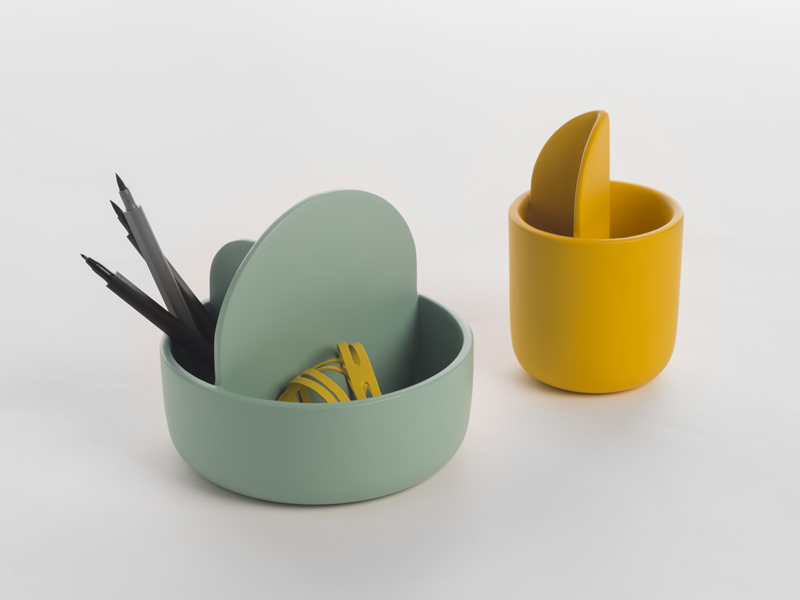 The Story: The function of containing is vital to every domestic environment: small receptacles are often used to store pens, small stationery objects, cutlery, coins and work tools. And, for a number of reasons, we often subdivide the objects within. With this in mind, Tomas Kral designed Split: a container with miniscule "planes" dividing and organizing the space within, thus altering an object which is as traditional in typology as it is assorted in content. Produced in ceramic in two colours and sizes, Tomas conceived Split with a clear intention: the two heights are suitable for use in different situations and the inner walls allow for the subdivision of contents as desired.
Name: Split. Design: Tomas Kral
The Story: We usually do our habitual tasks with the same tools. Writing, in particular, is a task that is better performed with preferred pen. Hence the will to make it special, to avoid it being buried under piles of papers and making it stand out in our work place. Cirripedes are small cute stands you can fill your desk with, providing a functional support for our best deawing tools. All the Cirripedes series is made in turned iron. The hole is big enough to hold a pen of a 12mm diameter, a standard for writing pens, and the weight of the metal counterbalances the lever of the pen so it won't flip.
Name: Cirripedes. Design: Giorgio Biscaro
The Story: In an increasingly digitalized world, we still feel the need to use physical supports to save and share data. The memo pad is ever present on our desks; its loose sheets sometimes getting lost precisely because of their weightlessness. Hence, the
paperweight

is still a useful object. Baguette has been conceived to fulfill this need: small and shiny, it pleasantly finds its place on any table. It carries its metallic weight, all the while providing another analogic function: that of measuring. In fact, the notches along its length are not only a precise decorative pattern but also serve to indicate centimeters.
Name: Baquette. Design: Giorgio Biscaro
The Story: Tournée mirror is inspired by the theatre actress on tour, with her indispensible mirror and set make up in her private dressing room. It rests on a cone shaped base, which allows for its rotation (and prevents accidental falls) but can also be fixed in a stable position. Stopping to flaunt itself, only to depart again, its reduced size allows it to fits inside a handbag. The base is made of two tones of opaque enameled ceramic and the mirror is silvered glass.
Name: Tournée. Design: Giorgio Biscaro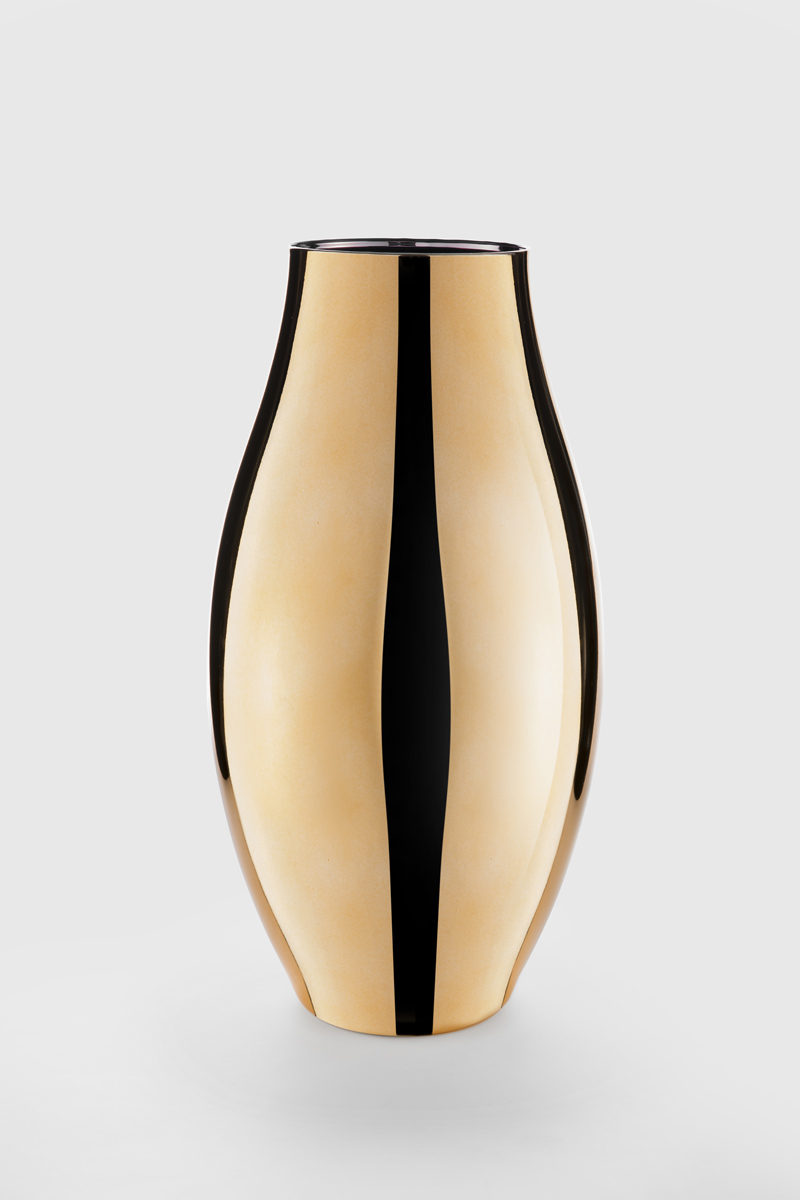 The Story: We wanted to design a real vase, not an object that usually remains empty just because it can't bear the weight of a bunch of flowers. This determined the overall dimensions of Dip, which is not a small vase and can do its job effectively. We also wanted to put colour on it, in a different way. That's why Dip has been metallized with a particular vacuum deposition technique, which creates a reflective effect of the surrounding environment.
Name: Dip. Design: Zaven
 All images of products by ©Somethinggood.it