What is 'typically German?' You may answer spontaneously with an eye twinkling "they love garden gnomes!" – then, well done, you'll be labelled a real expert in talking stereotypes. And as german who has lived abroad I had a lot of fun discussions with my expat friends about some more well-known attributes linked with us, as homeliness, tidiness, punctuality and duteousness or diligence. And what about our lack of humor?
Tracking some more answers on these questions I spent a fun afternoon in Cologne at the MAKK Museum. And that started already before the entrance.
At first sight, I thought, oh god, already so german and so ridiculous to put waste containers in front of the museum for the garbage collection! But then I somehow suddenly stopped and read the word ENVY (NEID) on the black one. ENVY? On a trash can?
Ok, second look – and the light bulb went on! They are all labelled! From left to right: Intolerance, Bullishness, Glee, Smugness, Nitpicking, Bureaucracy and Envy. And yes, Mr. Sachs, fully agreed, let us throw all of those characteristics away! Instantly.
But take a third look on the details. I was not the first one to be misguided. You see? Already some empty beer-bottles are mingling around between ENVY, BUREAUCRACY (Bürokratie) and NITPICKING (Pingeligkeit)! Ah, I love my fellow citizens.
In his 'typisch deutsch?' exhibition, artist and designer Rolf Sachs condenses his personal reflections on those allegedly German attributes and stereotypes in an exciting selection of objects and installations. The exhibits are enveloped by a subtle network of associative connections, playing with concepts such as industriousness, cleanliness, homeliness and narrow-mindedness, and telling us about the multi-facetted aspects of German culture.
And how I love these press releases! So let me take you to some of the objects and I will unwrap some of the envelopes for you…. hopefully you find yourself playing in the network of connections and concepts (ok, I admit: just envy that I am not able to write so well-verbalized sentences)….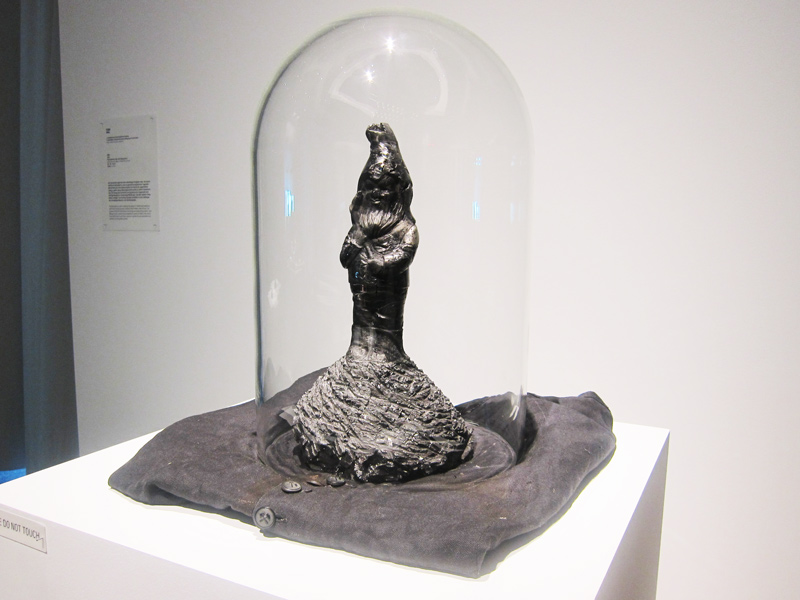 For example you will meet this cute german garden gnome, normally living in colorful garden plots, in total black covered under glass. Furthermore he rests on an used vintage miner's shirt. A wonderful composition to illustrate the virtue "Fleiß" – DILIGENCE. A miners work is one of the hardest – and a lot of our wealth today is based on their unbelievable hard work during the phase of the first industrialization beginning with the 19th century. And haven't we all heard phrases like no pain, no gain in our childhood?
Hard work makes thirsty. Quite an equivocal one is also das Maß (the MEASURE) as it is visually playing with a symbol of one of Germanys top exports – the bavarian beer-festival called Oktoberfest. It is said, that the biggest one outside Germany takes place in Blumenau – in southern Brazil.
Now let us get more serious. The ENDLESS MIND (Der unendliche Geist) is a bronze-casted pillar (referencing The Endless Column of Constantin Brancusi) made of important works from german literature, philosophy and natural science in a timeline. But I didn't feel, that the installation is only about a nations pride, for me the high column also symbolizes the big unrest associated with germans. It is never enough, so we feel determined to reach higher and higher, but the downside is, to be never happy with the moment. And it reminds me on a funny statement a chinese friend once made:
"You know after visiting germany I know now why you have a lot of thinkers. Living in such a bad weather – there is just nothing else to do…"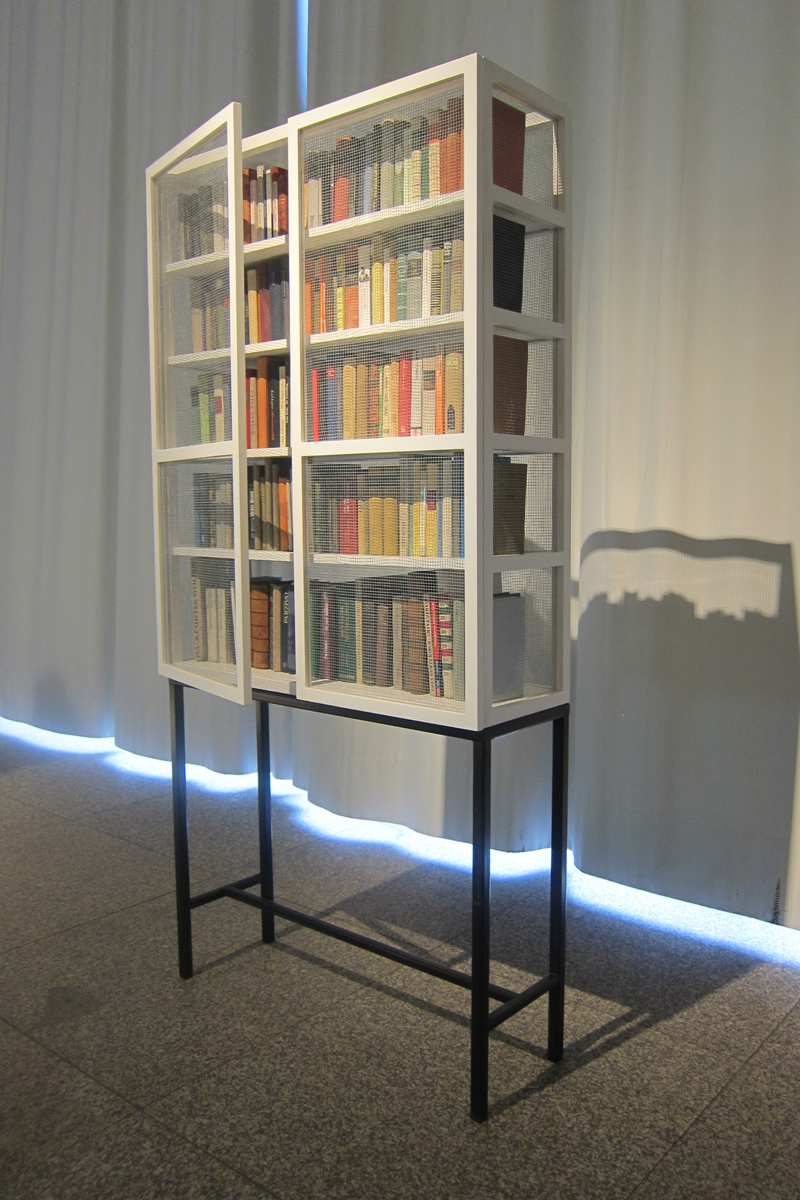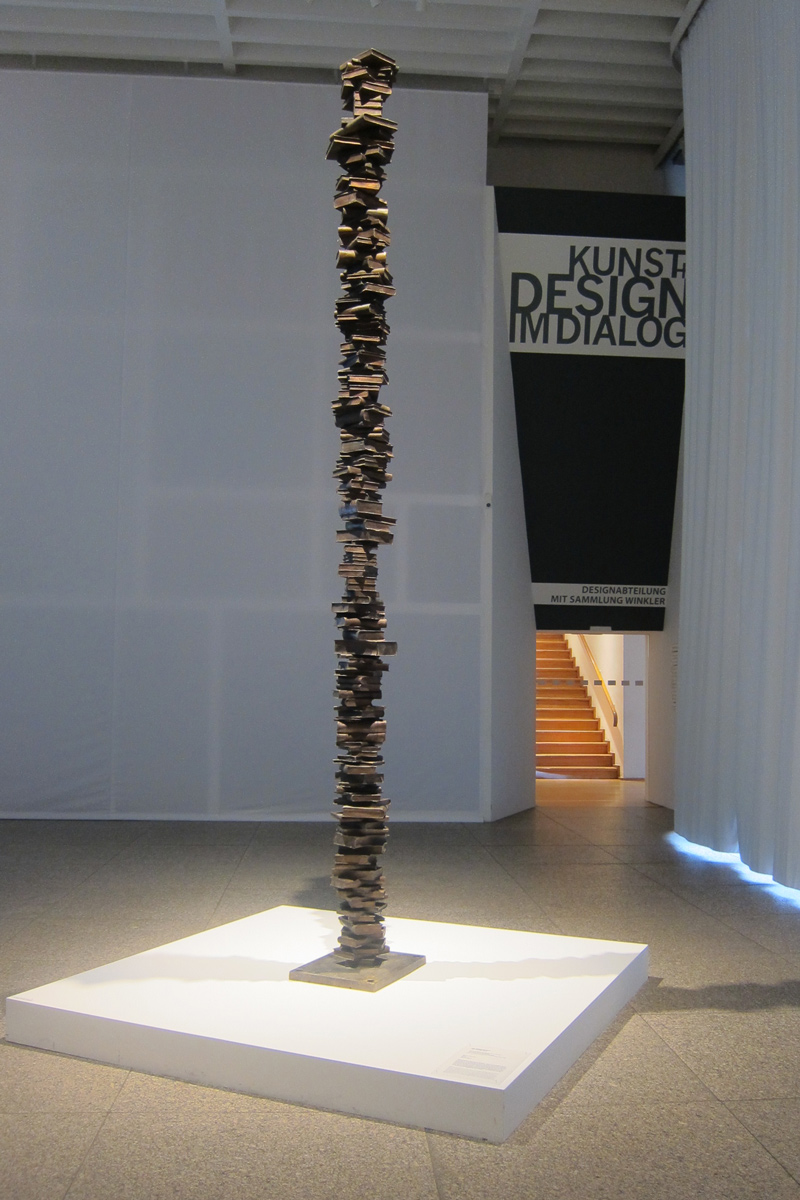 That said, it makes it easy for me to bridge to another typical german characteristics. Can you feel it?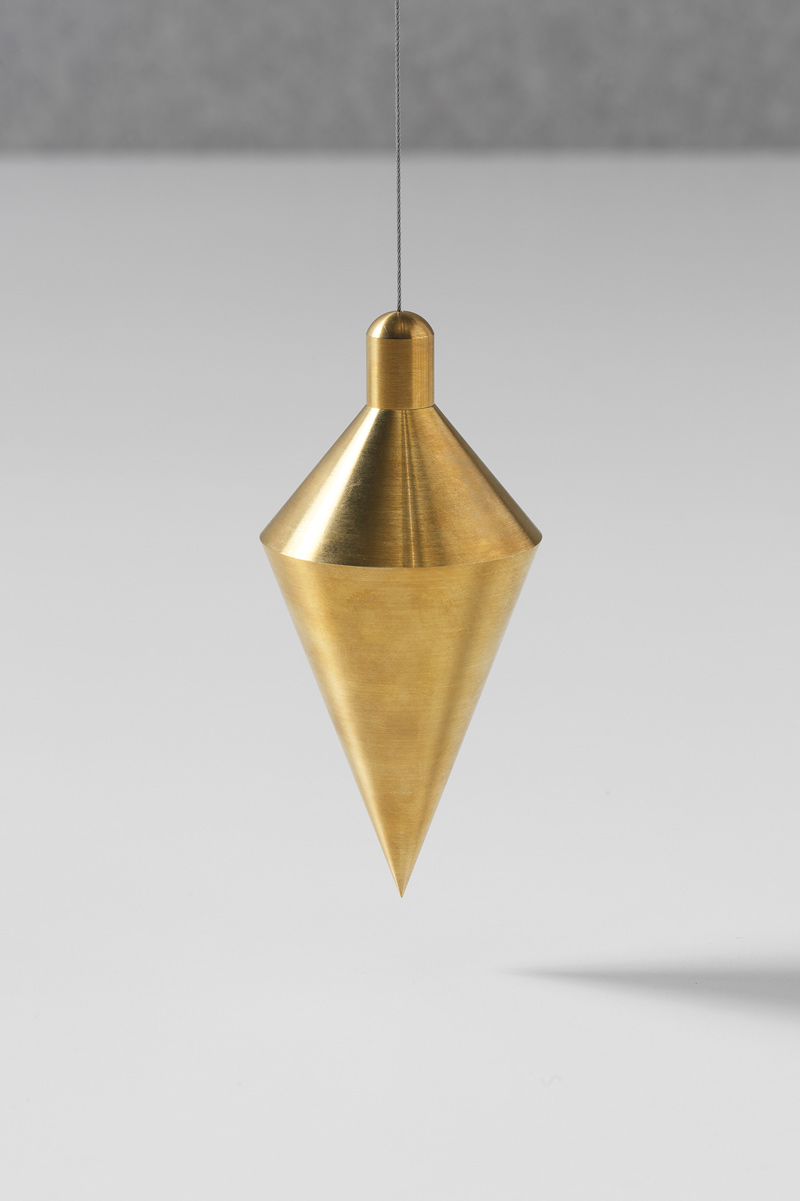 And what about this one? It is accuracy, precision (GENAUIGKEIT). A bit scary, too, right? Below you see part of the red tape (AMTSSCHIMMEL)  a pillar with lots of chops and funny expressions on it. The one which makes me really laugh out loud, was Weltschmerz. I admit I have no idea how to translate that one, but the dictionary said: world weariness. Well, a feeling which I would more attribute to german intellectuals, especially philosophers. Or am I stereotyping?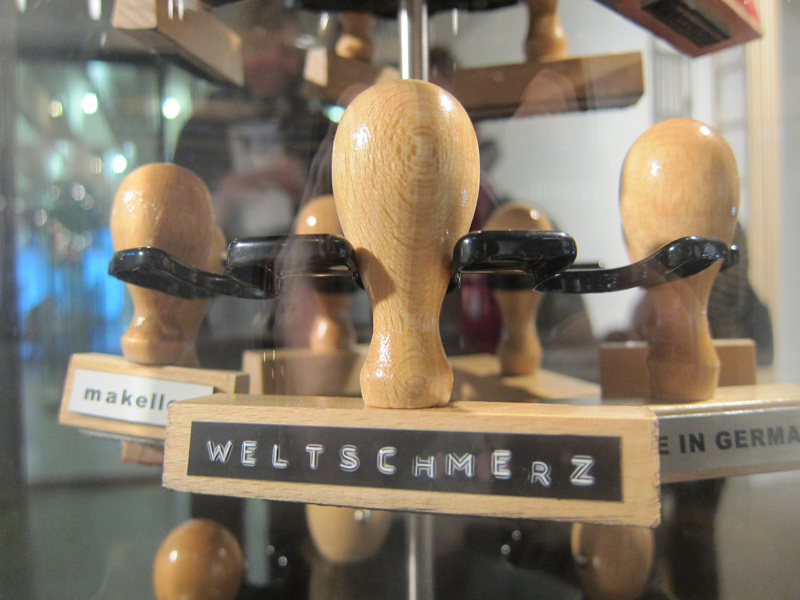 Referring to my chinese friend, I would like add, that the bad weather also made us think a lot about how to escape from it. That's maybe the reason why still so many of us love to drive…. – the table is a road sign saying EXIT.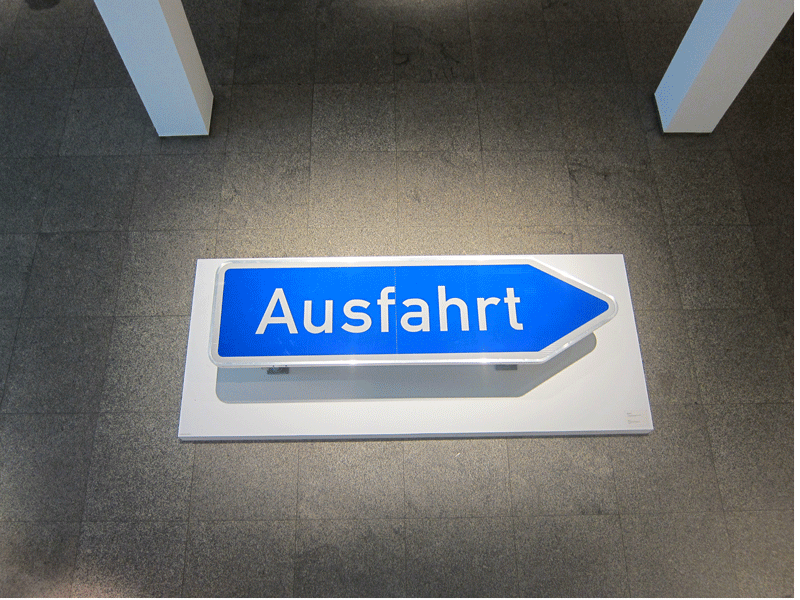 From his cosmopolitan point of view Rolf Sachs (swiss-born, german father, french mother, Iranian wife, lives in London) has created a fresh view on essential characteristics of German identity. And I hope, you join me in my opinion, he is defying the cliché of the humorless German. So have fun visiting the exhibition with more than 20 objects and installations.
And thank you Mr. Sachs, it was really a pleasure to visit your first solo exhibition in a German Museum! Hopefully it will go on a tour to other countries, too.
P.S. Compliments to the MAKK staff, the most polite and friendly museum folks I have ever met!
Opening times and Tickets
Tue – Sun: 11am to 5pm | closed on Mondays
Museum für Angewandte Kunst Köln
An der Rechtschule
50667 Köln
T +49 221 221 23860
F +49 221 221 23885
makk@stadt-koeln.de