During Milan Design Week in April I met some very interesting designers from Singapore in the Showrooms at Via Tortona. It has been the first showcase of design made in Singapore held by the official body of design of the country (Singapore Furniture Industries Council – SFIC).
Seven design studios have been selected by the official body of design industry in Singapore to represent the country at Milano Furniture Fair with new collections on world premiere by: Acidstudio, Creativeans, Desinere, Jarrod Lim Design, Kelvin Teo, NextOfkin Creatives, Studiorigins.
So let me show you around by highlighting what caught my eyes.
Nextofkin Creatives presented lifestyle pieces under the motto "habits x forms". Their habitual way of sketching and thinking when they design electronics devices was translated in forms and ideas for lifestyle objects: chairs, tables and toys. They worked on observing how daily habits influence the shape and details of the furniture. The loveseat (above) shares the idea of placing your reading glasses and your loved ones on the same spot.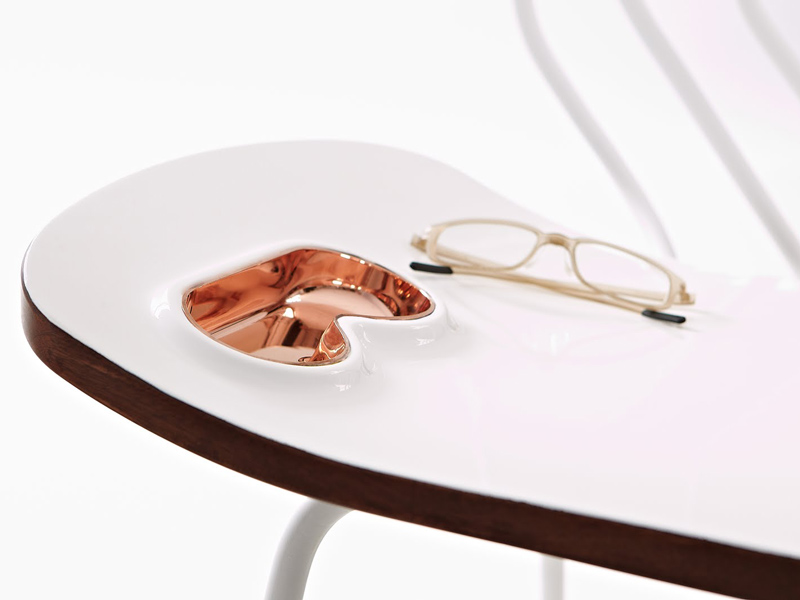 This set of Chinese characters is "Wu Fu Lin Men" which means "the five good fortunes have arrived at the door." is commonly seen pasted or hung above the lintel of the front door frame of the house. Inspired by an oriental red lantern, It transform into a set of five dining lamp. In Chinese culture, dine represent the wealth for the family. Fortune Five fly on top of dining table hope can bring the good fortune to the family. It is made in steel wire with powder coated finish – by Acidstudio.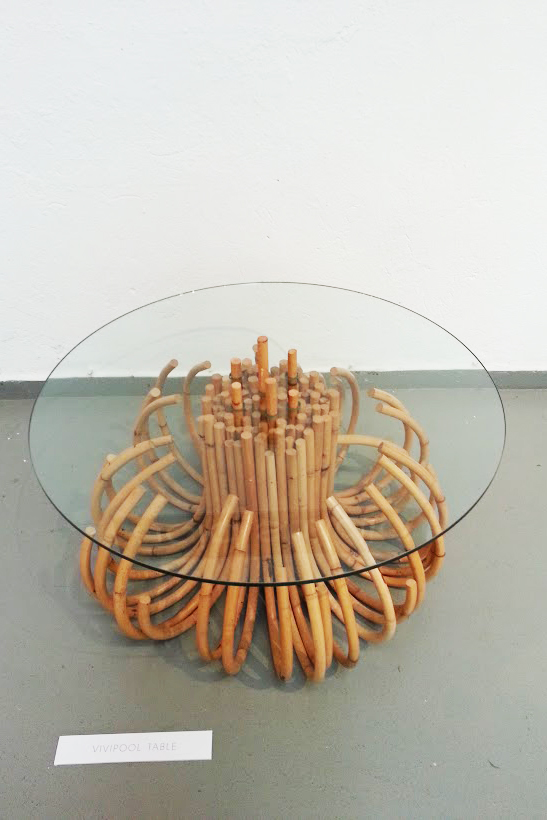 Also by Acidstudio the vivipool table – makes me think of a jellyfish.
Paperfold Chair by Kelvin Teo from his new Kapsule Collection
SuperCut Bookshelf also by Kelvin Teo
And some more to rock: the rocking moto is one of variants of the modular rocking horse concept. It aims to bring our childhood memories into the next level of object of desire. The rocking moto is a design collectible for the young and old – by Nextofkin.
The Itty Bitty Stool by Studio Desinere and the paperweight named rok.

Hope you enjoyed the tour – but wait a minute – finally it is always quite interesting to listen to the designers themselves, here you go: